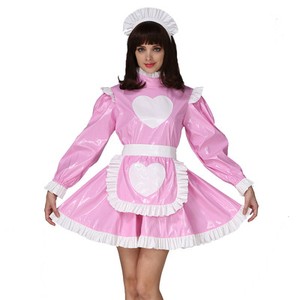 Chastity and Sexuality
Being a sissy is a wonderful lifestyle for some and for others, it's just a big part of their sexuality. There are many different types of sissies out there, such as sissy maids, sissy slaves, or sissies that just like crossdressing and being feminine, and there are many ways these sissies live their lifestyle. By serving their owner, putting themselves in humiliating positions or by secretly dressing at home alone. However, one thing most sissies have in common is an interest in wearing a chastity cage.
What is chastity?
Chastity is where you abstain from orgasm either through physical or mental means and can be voluntary or involuntary. This can be done by yourself (voluntary), at the command of another, such as a mistress or master (involuntary) and the most common way with both is with a chastity device. This is a small cage and ring that you are able to lock onto your sissy clitty which removes your ability to stroke your clit. The reason sissies love chastity so much is because of all the wonderful ways being denied orgasms can do to improve their sissy personality, mindset, and sexuality.
How to find the right size?
There are so many different cages on the market that picking the right one can be daunting. There are also different materials cages can be made from that offer different shapes and styles. Some examples include hard plastic, soft plastic, metal with bars, metal that fully encloses and cages that have spikes in them or around the base ring. Finding out which one is for you can be the most fun and exciting experience you've gone through. To find the right size device you have to know what cage length and ring size you need. To measure yourself for a cage, your clit has to be completely soft but not shriveled, so wait 5 min after getting out of the bath/shower. Take a ruler to the base of your testicles and measure your length to the tip of your clitty, to find the cage length you need to subtract ~1/4 inch from this figure. For the ring size you need to divide your circumference by 3.14. Take a piece of string, place it around your clitty and under the scrotum. Now measure your string to find out the circumference.
This table will give you an idea of what size ring you should get:
Measure from behind testicles and around penis
Ø ~4.9inch (125mm) = Ring Size ~1.57inch (40mm)
Ø ~5.6inch (141mm) = Ring Size ~1.77inch (45mm)
Ø ~6.2inch (157mm) = Ring Size ~1.96inch (50mm)
If your measurement is between two sizes we recommend choosing a larger size. Especially when you're beginner and trying it for the first time
Fitting a chastity device can be difficult at first. Because you need to keep your cute clitty soft while attaching the device. The recommended way to put it on is by inserting each sissy testicle into the base ring. This can be done a lot easier with some lube applied to the scrotum or base ring. Once both testicles are through you might need to wait before your clitty goes soft again and then pull your clit through. The safest lube to start out with would be water based but from there you can try out silicone based, coconut oil, baby oil, lotion etc. Finding out what works for you in the long run is recommended as chafing can be an issue for long-term wear.
Benefits
Having your clitty locked up in chastity can have many positive effects on you and numerous fringe benefits for those around you. By not being able to orgasm you become more submissive. This is because by being denied you will become docile and more suggestible, especially if someone else is holding your keys. Maybe: initially you'll have more energy and focus that can be spent on exercising to become a cute femboy. Eventually, however, you'll just get hornier and hornier, your focus narrows down to one thing: ORGASM!
While cages don't shrink your clit permanently, they can reduce the size for a day or two, giving you a smaller, cuter clit. Let's be honest, being the submissive sissyboy you are, you don't have any use for a larger clitty anyway! Wearing chastity can increase the sensitivity of your other erogenous zones and you will focus on getting sexual relief mostly through anal masturbation and playing with your nipples. One of the effects of chastity is you are able to focus purely on your prostate and after some time and practice may be able to achieve a SISSYGASM. A sissygasm is an orgasm which is achieved through stimulating your prostate with no clitty stimulation. Usually the sissy clitty starts to leak a lot of precum like women pussy would. And with that pesky clitty out of the picture and not distracting you, you can focus on cumming like a proper sissy. I got started in chastity years ago and have worn it on and off ever since. Recently I started getting more serious about wearing it and I have given myself longer lock-ups. Getting aroused gives you a unique feeling when your clit tries to grow but is stopped due to the cage, this always makes me feel incredibly submissive and puts me in my place as a sissy (my 'manhood' has been defeated by a piece of plastic!). With this knowledge and feeling I have driven myself more as a sissy and I am glad I've devoted myself to the lifestyle.
Long-term wear
Now that you know the basics about chastity and the wonderful effects that it can have you may be curious about when you should wear it. Ideally, 24/7 chastity is the goal for a good sissy. Unfortunately, not many sissies can make that commitment due to life getting in the way or due to not being used to longer lock-up times and experience chafing. To get yourself started with chastity I'd recommend wearing the cage at home while you have free time, getting used to how it feels and perform daily tasks. One of these tasks would be learning how to go to the toilet again – when you're wearing a cage you will have to sit down to pee. However, I also recommend removing it before you go to bed and attach it back on in the morning again. You also have to get used to wearing chastity outside. Wearing a cage while you're out and about can make you think the whole world is staring at your crotch, don't worry they're not. However, it is still a difficult hump to get over. Going to the local supermarket or just going for a walk while caged are simple tasks that can help build your confidence. I have started wearing my cage close to 24/7, letting myself out to clean the cage and my clitty, and at certain events.
Sexuality
Now, this is what everyone wants to know! Having your clitty locked up in chastity will change how you and others perceive your sexuality. People may see your locked up clitty as not deserving to receive any attention or even be allowed an orgasm. As you start to focus more on how horny you are becoming as the amount of time you've been locked up increases, you'll start to get turned on by things that previously wouldn't turn you on. Perhaps you'll feel more attracted to your non-preferred gender or try scenarios that would never cross your mind. As the desire to be unlocked increases, it can make you do things that you'd previously never dare to try or consider impossible to accomplish. Like tasting and swallowing your own cum or being on your knees in front of an alpha male ready to suck that hung uncut cock. If a sissy has a key holder then sissy has no choice but to do whatever they want in the hope Mistress or Master will unlock her. Femboys need to get used to doing chores, household duties or whatever is deemed necessary by their superior owner. If you're lucky, they may demand you sexually please them through the use of your mouth, toys or even by finding a 3rd person for your humiliation. HINT! Always be ready to have your ass penetrated and make sure lube is close at hand! Keyholders can make submissive sissyboys perform in humiliating, degrading and dirty sex games. Inviting a complete stranger or even a friend (or ex-lover) over to use you however they want is just a beginning. You can be placed in shackles when they remove your cage for cleaning and put into a smaller cage. The merest hint of a promise of the possibility that they may unlock your chastity and allow a release will be enough to give them complete control. Of course there's always the chance they'll like the extra attention and want to keep you locked up forever! If that happens you'll just have to get used to complete obedience.
Taking sissification training further
We learned that a chastity device is a useful tool when it comes to sissification – taking your masculinity and replacing it with femininity. However, the cage is just a "key" that opens your subconscious mind for transformation. Taking feminization further requires additional items: dildos, butt plugs, panties, bras, lingerie, makeup. Crossdressing can make you feel so wonderful that you forget having your clitty locked away. When you feel feminine your butt will be more receptive. Then is the best opportunity to start working on anal penetration. Making the penetration longer than 5-minute fantasy rush you can use Anal Chastity – Toy that you can lock up while it is in your butt. Alternatively, you can also try 2in1 option – Male chastity with anal plug
Steps to take your sissy training further:
1. Wear chastity
2. Crossdress in beautiful lingerie + makeup
3. Wear Anal chastity.

Step 2 is very important, otherwise, you will become just a submissive male slave
Final Thoughts
There are many chastity devices available and everyone is different, but my personal recommendation would be a Holy Trainer replica. It's a cute and comfortable cage that comes with different ring sizes, so you can try out a few for yourself. Also, it comes in different colors, pink being my favorite ;). I highly recommend a chastity device for any good crossdresser or submissive sissy, whether it's for themselves or for their owner/keyholder as it will help improve your obedience and let you be the slut you're meant to be. With my experience, I have been wearing my holy for several years now (on and off) and since I started wearing it I have definitely grown more as a sissy. I try to spread the joy of chastity as much as possible to other sissies in need of chastity advice because I know of how great a feeling and how wonderful the benefits of being locked up can be. Happy locking sweeties.
Author: Jennifer Sissylover content writer & research